Sponsor Kids
Meet Stephanie Wenzel! Stephanie was born with Neurofibromatosis (NF1) and diagnosed October 25, 2021 with MPNST (Malignant Peripheral Nerve Sheath Tumor) in the beginning of her Senior Year at Whitmer High School. The best school year of her life! Unfortunately the best year of school turned into the worse year causing her to have to home school online due to Immune system risk and the spike in Covid19. Missing her classmates and all the senior year activities is so sad but she will graduate May of 2022 thanks to the awesome staff! The Journey she is on is so unreal, but is so real at the same time. The specialists treating her at OSU removed a Neurofibroma Tumor on her spine and L5 that had suddenly appeared in April and grew into a large mass by September. The tumor was sent to lab where the cancer was discovered. Cincinnati Children's Hospital quickly took her case over and while getting her plan together discovered the tumor was very aggressive and returned back to the same size it originally was on her spine. On December 1, CCHMC quickly got her started on Chemotherapy. Three rounds of Chemotherapy every three weeks allowed the surgeon at OSU to go back in and remove the tumor again on February 11, 2022. Once again the tumor was sent to a lab where it was analyzed and discovered the Chemotherapy was not working as they would hope.  On March 7, 2022 she was released back to Cincinnati Children's Hospital where Proton Radiation started as outpatient 5 days a week for approximately 9 weeks. Stephanie loves anything that involves her and her friends being together. A season pass holder at Cedar Point has her spending her summer days thrill seeking! Winter time you will find her and her mom skiing anywhere they decide to travel to! She is a former JRSC (Jolly Roger Sailing Club) Jr. Sailor and PRUCA Echoes of Poland dancer. She loves all summer activities!  She is often found  swimming, laughing and hanging out! This winter was extremely hard being quarantined and unable to do any downhill skiing this year. Watching the winter Olympics from the hospital was hard, missing any ice skating, skiing and sledding days! When you meet Stephanie, you will meet a very happy smiling girl that is very compassionate for any living organism big or small! Her polite disposition will show you a girl that is always there to help anyone or anything when needed. Her dream is to become a Veterinarian!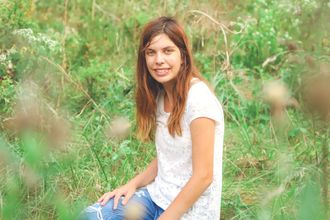 Meet Rydder! He is a 7 year old boy who has recently been diagnosed with DMG-Diffuse Midline Glioma (formerly DIPG), an aggressive and incurable form of brain cancer. In March Rydder's mom Krista took him to the eye doctor because he was complaining of a headache. The Dr. determined he just needed glasses, but a few weeks later, in early April, he started to lose control of his eye movement. By that Friday afternoon the right side of his face was drooping, his speech was slurred, he couldn't walk, and he was having a hard time gripping anything in his hand, this was something clearly more serious. He was taken to the local Children's Hospital where it was determined that he needed to be transferred to the main Cincinnati Children's Hospital campus to confirm the brain tumor. Within 24 hrs. it was determined he would require surgery to remove the mass from his midbrain area, and the Dr. said to expect the worst! 
Rydder underwent a 5 hour surgery to partially remove the tumor which was later determined to be DMG. He will start radiation therapy and a drug trial on May 16th. Treatment options for DMG are limited. The tumor cannot be entirely removed because they grow alongside and in between normal cells that control essential functions. Rydder's treatment plan aims to shrink the tumor and treat his symptoms. 
Rydder is a typical energetic boy, he is happy, kind and grateful and loves to be around his family and friends. Every step of the way he has been strong, loving, happy and extremely thankful to all his Dr's, nurses and therapists who have helped him work hard to gain some strength back to help him in his fight. 
On a typical day Rydder can be found enjoying Spiderman, Paw Patrol-Chase is his favorite, Minecraft, Fortnite and playing with his brothers: Walker, who is 9 and nonverbal autistic and Sawyer, who is 4. Rydder loves to be outside, he enjoys camping, fishing, swimming, sitting around the campfire, riding go-carts and he loves to attend church with his family.
Meet Jolee Yunker! Jolee is 9 months old and an identical twin. During my pregnancy with the twins, we found out that baby A (Jolee) had a right leg deformity of some kind. In the beginning, the doctors thought that her left leg would just be a little bit longer than her right leg, but they said it was too early to tell for sure. Fast forward a few doctors' appointments, and we were told that Jolee actually had a lower right leg deformity. Initially the doctor said that it looked like the lower bone in her leg had been broken without really being broken, it was just the way the bone was growing. Jolee was still too small at this point for them to see exactly what was going on with her leg. When I was 21 weeks pregnant at the twin's anatomy scan, we were told that instead of having 2 bones in her lower right leg like she should, Jolee only had 1 bone and the bone that she did have was shorter than what it should be. The doctor also said that they only saw 3 toes on her right foot. What did all of this mean? No one knew for sure until after the babies were born and she could be seen by an orthopedic surgeon. 
Jolee had her first appointment with the pediatric orthopedic surgeon when she was just a couple weeks old. They took some x-rays of her leg and after reviewing them, Dr. Buerk (her orthopedic surgeon) diagnosed her with fibular hemimelia. This is a birth defect where children are born with a short or missing fibula. Jolee's case was considered more severe because she was completely missing the bone. Dr. Buerk was very straightforward with us (but in the most compassionate way possible) and told us that because her case was more severe, that the best course of action for Jolee would be amputation at/around the ankle and to be fitted for a prosthetic foot when she was about a year old. After discussing every possible option with Dr. Buerk, going through every single pro and con for every option available, many sleepless nights, constantly praying about it, and thinking about it pretty much all day every day for 6 months straight- we decided that the best decision for Jolee was amputation at the ankle and to be fitted for a prosthetic foot when she was old enough. This was the hardest decision we have ever had to make as parents, but we knew that this decision would give Jolee the ability to live the most "normal" life possible. 
On February 21st, 2022 at just 6 months and 18 days old, Jolee had her right foot amputated. She was so strong before her surgery, during her surgery, and throughout her recovery process. She displayed a strength I had no idea was possible at just 6 months old. Jolee has not let the fact that she only has 1 foot slow her down at all. She has such a magnetic personality, and more determination to accomplish exactly what she wants to at 9 months old than anyone I have ever met. She will be fitted for a prosthetic foot around her first birthday, and after that she will see an orthotist at least once a year to adjust the prosthesis or make a new one for her as she grows. I know that she has a long road ahead of her and that this road will have many obstacles she will have to face at such a young age, but I have absolutely no doubt in my mind that she will overcome every single one of them. At just 9 months old, Jolee has been through and managed to overcome more than what most people will throughout their entire lives. I am so proud to be her mother. She continues to amaze me every single day, and I cannot wait to witness all of the wonderful things she will accomplish throughout her life.
Aiden's story begins before he was born. At our 20 week anatomy scan we find out that he was measuring behind. He was measuring less than 10% and that put us at risk for IUGR. I was planning on delivering at a birth center like I had done previously. After this ultrasound, my midwife directed me to go to maternal fetal medicine to get another ultrasound to make sure things were okay. I was told that the original measurements could be off. I went to Maternal fetal medicine at Toledo Hospital where they remeasured everything. Their measurements came out the same and I was diagnosed with IUGR. A lot of times, babies with IUGR stop growing completely or the growing will slow down so I had to go in for weekly non stress tests, bi-weekly dopplers to check the flow from umbilical cord to baby and monthly growth scans. We had no idea what would happen and each week down was an accomplishment. Every test I had showed no problems other than his size, he continued to stay under the 10th percentile. During this time, I left my midwife and found a high risk OB.  I was too afraid to not give birth in the hospital not knowing the risks we would face. At my 35 week scans, he jumped to the 22nd percentile. The ultrasound tech was floored. She rechecked her measurements multiple times but continued to get the same results. This was a miracle! We were no longer considered high risk, I was released from MFM and was able to go full term! I was induced by choice at 40 weeks and 5 days. He came out weighing 9lbs 3oz! 
Aiden was born with a small birthmark on the top of his head. It was the size of a dime and it was a little darker than his skin tone.  It started turning red and we learned he had a strawberry hemangioma. His pediatrician told us it was no big deal and that it would eventually go away on its own. It continued to grow. At his one month appointment, we were told it was normal and that some raise a little and it was nothing to be concerned about. It continued to grow and raise. I started noticing little black dots in the center of it and joined a support group on Facebook. I posted a picture and asked for advice. Right away, I was told I needed to find a pediatric dermatologist because it looked like it was in the beginning stages of it ulcerating. I reached out right away to one and was seen 2 weeks later. In those 2 weeks an ulcer formed. His dermatologist prescribed him Propranolol, a beta-blocker that would stop the growth.  That medication was amazing! He was on the medication for less than 6 months and it had completely healed his ulcer and had flattened the hemangioma almost completely.
View him on Facebook https://www.facebook.com/AndrewMartinMagic