Sponsor Kids
Paislee is 3 year old little girl to Brittani Throne.  When Paislee was about 18 months old, her mom noticed a bump on the side of her head and started the long process of seeing many doctors and having many tests and scans done.  Shortly before the age of 2, the doctors had discovered four total bone lesions on her skull and a skin rash on both sides of her head.  Three days before her 2nd birthday, she was diagnosed with a very rare cancer called Langerhans Cell Histiocytosis.  She immediately had a port placed and started chemo.  
Paislee sees an oncologist in Cleveland at University Hospital's Rainbow Babies and Children Hospital. She initially started with a chemo that was weekly and lasted for twelve weeks.  After that, her doctors had not seen improvement but did not see the cancer getting worse so her team decided to enroll her in a clinical trial. The chemo while on the clinical trial did not change but it had gone from weekly to every three weeks where the doctors had noticed that her skin rash had reappeared and the bone lesions showed no improvement. The doctors then decided to pull her out of the trial and give her a more aggressive chemo. Paislee is admitted to the hospital once a month for chemo, which has shown significant improvement. We are hoping after this course of treatment she will go into remission, but we still have a long road ahead of us as she has markers showing that it is likely to reoccur.  
Paislee is a full of life, loving, energetic and carefree 3 year old. She has a love for Disney princesses and sings all of their songs. She looks forward to going to the hospital each time to see all of her doctors and nurses that care for her. Even in hard times she is as happy as can be.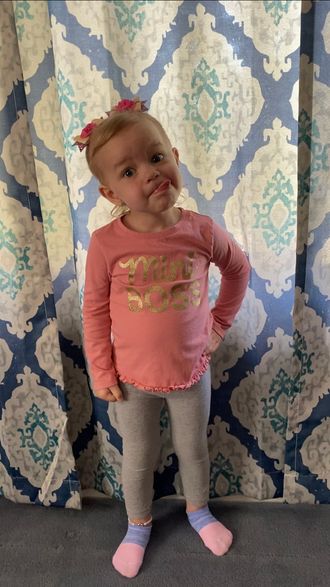 LEVI Brunt
Levi is a 19 month old little boy who was born with Cystic Fibrosis. Levi and his parents, Jordan and Josh Brunt have been through 3 surgeries, and countless doctors appointments. Cystic Fibrosis is a terminal genetic lung disease which also severely can affect the digestive system. Levi is one of many kiddos who has to take pancreatic enzyme every time he eats. He spent 21 days in NICU after his first surgery, an exploratory laparotomy, which lead to him having an ileostomy. They had some crazy diaper changes for 3.5 months (they didn't use stoma bags). In May of 2020, he had his ileostomy reversal, and he has been thriving since (for the most part). He still struggles to gain weight regardless of how much he eats. He does 2 nebulizer treatments (3 meds each time, each 15 minutes long), and 2 physiotherapy vest treatments daily, which as of right now will be for life. When he's sick, he has to do the treatments every 4 hours, even through the night. He has been sick with some sort of cold every month since May of 2020, due to him having a weakened immune system. When he gets sick, his lungs can't fight it off like most. 
   Currently on his medical team, there are 4 pulmonologists we see at the Toledo Cystic Fibrosis clinic, an allergist, a GI doctor, his pediatrician, ENT, endocrinologist, and if admitted for constipation, they still consult with his surgery team. Levi has doctors appointments typically every other week. With him being sick so often, his mom Jordan, has to take off work at least 3-10 days each month. He thankfully will be able to start a new drug in February when he turns 2, but until then they have to wait. 
   Levi is so full of life, always happy and always eating, playing, and climbing on anything possible. He loves cars, bikes, and anything that moves. He is just now starting to be more comfortable at the doctors, and allowing them to get his vitals.
NEW FOR THIS YEAR: FOOD TRUCKS